EM 270_6 Working Through A Disaster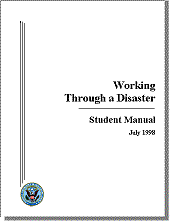 COURSE OVERVIEW AND OBJECTIVES

The purpose of the Working Through a Disaster training course is to provide front-line local government employees with an improved ability to plan for and cope with the problems of working through and recovering from disasters.
This course is designed for groups in a classroom setting. Only minor modifications are made to this course for independent study.
Note: Course materials for EM270_5 Managing Through a Disaster and EM270_6 Working Through a Disaster course materials are very similar.
There are 6 units contained in one file, less than 789 KB for the benefit of low bandwidth (14.4 and 28.8 modem) users. The naming protocol is em270_6.exe. Graphics may not be optimum in these documents due to originals and file size considerations.
Upon receiving your paid registration, we will send you the password to open these. We recommend you print out the pages as you need them and keep them as a paper reference.
The test is taken online. When you pass the test, you will be mailed a certificate of completion.
The final exam is 30 questions taken from the reading material. You may use any of the materials while taking the test.
I want to see what is in this course: CLICK HERE
I am ready to enroll: CLICK HERE
Download Course Materials Here EM270_6.exe
I am ready to take the FINAL EXAM