Course Title: EM 362 Multihazard Planning for Schools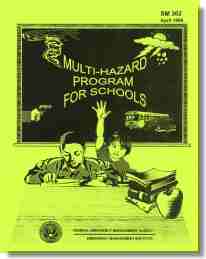 This training course is designed to help participants recognize the need to plan for all types of disasters, both natural and technological. All those involved in a school or school district, from district executives to school support staff, have a moral and legal obligation to do the most possible to ensure the safety of every person in the event of a disaster.
Along with providing a rationale for developing a safety program for schools, this training course provides participants with the tools to write and implement a program for their own schools.


TARGET AUDIENCES
The target audience for this course is anyone responsible for any aspect of developing, implementing, evaluating, or administering a safety program for his or her school or school district. The following audiences are appropriate for and will benefit from this training course:
Principals and administrators
Teachers
Parents/PTA members
School board members
District executives
Community (fire, police, planners, members of the local emergency response network)
School support staff
Transportation coordinators
District risk managers
This consists of seven session in four files approximately one megabyte or less for the benefit of low bandwidth (14.4 and 28.8 modem) users. The naming protocol is em362.exe, em362a.exe, em362append.exe, em362guide.pdf. Graphics may not be optimum in these documents due to originals and file size considerations.
These course materials are derived from FEMA's G362 course published 1999. These materials have not been significantly altered to allow the user to re-use these in the classroom setting.
Upon receiving your paid registration, we will send you the password to open these. We recommend you print out the pages as you need them and keep them as a paper reference.
The test is taken online. When you pass the test, you will be mailed a certificate of completion.
The final exam is 46 questions taken from the reading material. You may use any of the materials while taking the test.
I want to see what is in this course: CLICK HERE
I am ready to enroll: CLICK HERE
Download Course Materials Here
EM362.exe 1.2 MB, EM362a.exe 927 KB, EM362append.exe 462 KB,
EM362.pdf 414 KB
I am ready to take the test: CLICK HERE